"...
Our goal is to be your Professional IT Partner

..."
Complete Computer Support is proud to be a partner with SouthWare Innovations, Inc. and their professional SouthWare Excellence Series software suite. Using this powerful software, we have been successfully implementing systems in the South Florida and Caribbean market for over 25 years.
The integrated information management software is suited to large volume systems and will grow as the business expands. Our systems range from small single user systems to systems supporting over 200 users. Additionally, the secure Internet link allows full e-commerce expansion when your business is ready for this transition.
This well proven software is evolving as the technology improves. Available in full Graphical or traditional text mode, this allows the software to comfortably fit each individual user's preference.
In addition to providing software solutions, Complete Computer Support also assists businesses with IT support and other related services. We can help you manage your IT costs.
Every business needs effective tools to get their products and services out in the most efficient and expedient manner. Which tools are you looking for?
Put technology to work for you. Call us today at 561-845-0014 and we will be happy to review inquires for these services.
We are your professional IT partner.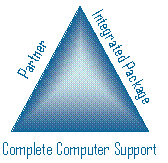 Why does a company need a system that is fully integrated?
Normal daily work should not need to be re-entered. A fully integrated system reduces the risk of data errors and omissions.
With an integrated system, a company can also have a common look and feel throughout their systems.
SouthWare® and SouthWare Excellence Series™ are registered trademarks of SouthWare Innovations, Inc.